日本二手车CardealPage-主頁 > 客户的心声
Customer's Voice from around the world
See the Customer's Voices of each Country and each Seller.
卖方 :
Thank you very much!
Thank you for purchasing through CardealPage
Dear CardealPage

Thank you very much for the vehicle, the vehicle was very good and nice to drive.

Thanks.
We are glad to see you happy.
Thank you for purchasing from us and thank you for the nice picture.
卖方 :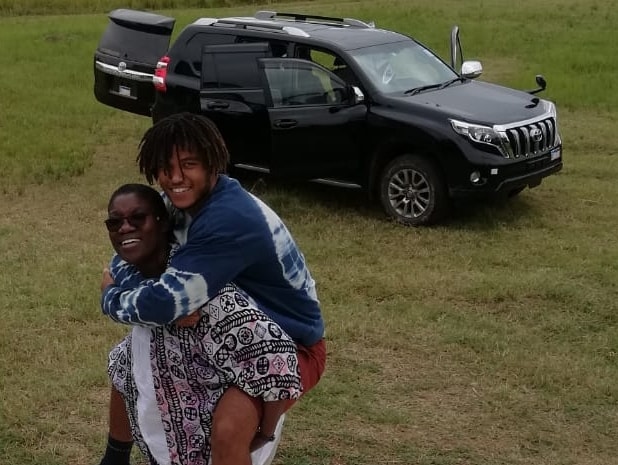 I'm happy, We went on safari at Kafue National Park with my family.
For my son's Birthday
The Team is Very HAPPY for you and your Family.
Enjoy Enjoy!!
卖方 :
Mr. FREDRICK JOHN MREMA (TANZANIA),
Thanks so much i already received my car,The car is very nice i appreciate you..
Dear Mr. FREDRICK JOHN MREMA

Thank you very much for the photos
it was great having business with you.

We hope you are enjoying your car.
Thank you for choosing our services

Best Regards
CardealPage.
卖方 :
J'ai bel et bien reçu mon véhicule.
Merci beaucoup quant au service rendu.
Mr. Robert MAOMBI MANGALA

Nous vous remercions pour votre feedback et nous sommes heureux que vous soyez satisfait.
Merci encore pour votre photo

Nous esperons vous revoir tres bientot

Merci
cardealpage
卖方 :
Hi CardealPage
Yes, I have received my vehicle, thanks for the good service.

I really love it
Keep the good work.
Thank you
Mr. Tembo Masiye

Thank you very much for purchasing vehicle from CardealPage
We are very glad that you love and enjoying your car.

We had good time dealing with and we expect you to join us again very soon.

Thank you very much
Enjoy the ride

Regards
CardealPage
卖方 :
hello my friend

I received the car,
I like it very much
Thank you so much
Ms. gloria ana Herrera rojas

It was a pleasure doing business with you.
Thank you so much for those wonderful pitcures

We really appreciated your cooperation.
We wish you an HAPPY life and enjoy your car.

Regards
Cardealpage
Mr. Cano Christian
ST. MARTIN
卖方 :
Bonjour Edouard

Grace à vos renseignements et votre implication nous avons récupéré la voiture ce jour.
Elle est bien conforme à la commande et est en excellent état. Nous sommes trés contents.
Votre compagnie est sérieuse.
Vous êtes un homme sérieux, dévoué, attentif et compétent et je vous remercie personnellement de votre implication.
Nous retravaillerons avec vous sous peu.

Merci
Mr. Cano Christian

Tres belle photo et tres beau paysage

merci encore pour cette photo
Je vous souhaite tout le plaisir avec voitre vehicule

Cordialement
Edouard
卖方 :
Bom dia brada stefen como estas o carro ja esta nas maos.
Muito obrigado por mais uma compra Sr. N
É com grande satisfação que recebemos a sua mensagem
Vamos manter em contato para a próxima compra
Desejamos-lhe tudo de melhor com o seu carro
Saudações